Home | About Us | Customer Feedback | Breeding | Studs | Puppies | Photo Gallery | More Information | Map to our location

FEEDBACK
(Last names and email addresses have been left off letters to protect the writer's privacy)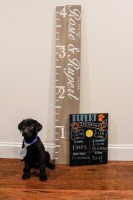 Rupert is doing great! Adjusting nicely. Getting the hang of his name and can sit. Plays great with my boy (the golden) and is getting his sister to warm up to him, they apparently played together last night for the first time. He's a sweet smart lovie boy!
You can follow Rupert on Instagram rosie_and_rupert
Rosie


---

From: Molly
Date: June 18, 2019
To: TwinOakRetrievers1@aol.com
Subject: Ellie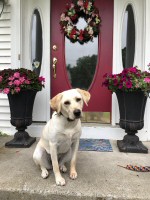 Hi Rachel,
Just wanted to share with you a recent photo of Ellie from Remi/Otto litter born last July 2018. She is doing wonderful! We absolutely adore her! She is the best companion ever to our family and also so loving to our two smaller dogs. We could not love her anymore ?? I hope that you and your family are well!

Thank you again!
Molly


---

October 24, 2018
Recently received this photo from a satisfied customer. Ace x Jelene pup born mid July.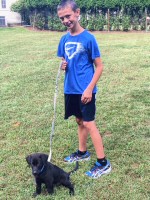 ---

From: Jennifer
To: TwinOakRetrievers1@aol.com
Sent: Mon, Oct 15, 2018
Subject: Thank you & a puppy for my parents?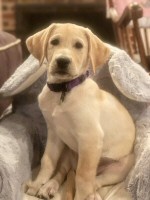 Hi Rachel,
The puppy we got from you is wonderful. We've named her Luna (Rimi x Otto litter) and she's a very good girl - a fast learner and so gentle with our daughter.
My parents lost their dog a few months ago and have fallen in love with Luna. They can't have her, but I told them I'd reach out to you to see if you had any availability in upcoming litters. I saw on your website there might be another yellow litter and maybe a black/chocolate litter coming up?
Please let me know! A text or call is fine too.

Thank you,
Jen



---

From: repeat customer Date: August 1, 2018
To: "peachesandpups@aol.com"
Subject: Pictures

Thanks so much for all the pictures and video. We're all getting more excited every day. We really appreciate the loving care you both give them raising them they really become great retrievers and pets.



Twin Oak Retrievers
Danny and Rachel Truitt
2209 Barclay Rd
Barclay, MD 21607
TwinOakRetrievers1@aol.com
Cell: 1-443-480-1429 / Home: 1-410-758-7671

Home | About Us | Letters | Breeding | Studs | Puppies | Photo Gallery | More Information |