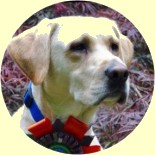 Otto
(click for large picture)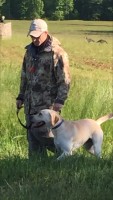 Otto is an extremely handsome 70-pound yellow lab. Born 10/6/2013, the two attributes people always comment on about Otto are how muscular he is and how fast he runs. He is extremely driven to retrieve and is a Junior Hunter titleholder. Otto loves to be in the hunting blind either in the field or on the water. When he is not retrieving, he is everyone's best friend and will readily roll on his back for belly rubs. He comes from a great line of Paradise Kennels' yellow labs. His Sire, Int'l CH MERGANSER'S YELLOW JERSEY, JH, WC, SH, is a beautiful 82lb Yellow Male and is that "special" combination of good looks and brains/free of known genetic defects. His Dam, SHR DDC'S ICE ON THE TRESTLE, is a 65 Ib beautiful yellow female. She, like many of our dogs, has an excellent pedigree and is one of the sweetest dogs we own.
Otto has OFA Excellent Hips, OFA Normal Elbows, Clear Eyes, DNA Tested Clear for CNM, EIC, Degenerative Myelopathy, Hereditary Nasal Parakeratosis, Progressive Retinal Atrophy, Progressive Rod-Cone Degeneration, Retinal Dysplasia/Oculoskeletal Dysplasia 1, and Skeletal Dysplasia 2. See Otto's files in pdf.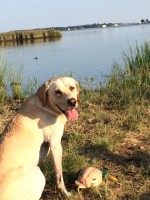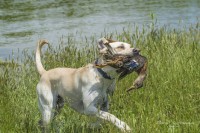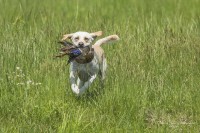 See Otto picture 5
See Otto picture 6
See Otto picture 7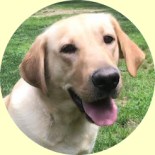 Rimi
(click for large picture)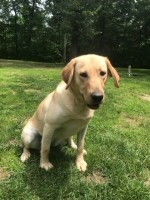 Rimi is our beautiful 70 pound yellow female. She comes out of sire Black Points Cash Money and dam Bettiegrue's River. She is a wonderful combination of a companion and hard worker. Her pedigree has a long line of hunt test champions. She is one of the most talented yellow girls we have in our breeding program. Her certifications are ofa Hips are good, Ofa A Elbows are Normal, DNA tested clear for EIC and CNM. She is a very loving girl with a great attitude. She is always ready to work and to just hang out by your side. Rimi loves retrieving on the water and is our fastest swimmer!
See Rimi's complete files.