Home | About Us | Letters | Breeding | Studs | Puppies | Trained Hunting Dogs | More Information | Map to our location

LAB BREEDER - PUPPIES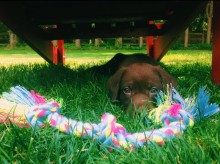 If you want a hunt or field test dog, or a dog that can be your be your special friend and companion, please check out our excellent candidates.
Our puppies are bred to be free any known genetic defects, good looking, and intelligent. To the best of our knowledge, our breeding stock is free of common hereditary defects such as hip dysplasia, inherited elbow problems, and progressive retinal atrophy. We have been breeding Labradors since 1984 (we're starting to slow down a little) and have insisted on a responsible breeding program. That is why we feel sure you will be pleased with your puppy. Letters from our satisfied customers help confirm this. You may always come to us for questions or assistance in caring for your pup. We are located in Delaware on the Eastern Shore - an easy trip for many people wishing to see our litters.


PARADISE KENNELS GUARANTEE

We guarantee your puppy against inherited hip/elbow dysplasia and inherited ocular disease for twenty four months from the date of whelp. Full refund of purchase price upon written proof of above disease from your vet and a letter from the OFA. In case of inherited ocular disease we need written proof from an Animal Optometrist. Also, we will need proof that your dog has been spayed or neutered.


Paradise Kennels puppies are born and raised in our home and are well socialized. Their dew claws are removed & pups are wormed and vaccinated. Since most puppies are sold before they are old enough to leave, we recommend making a deposit (see deposit mailing information) to establish your turn in picking a puppy. Clients pick their puppies in the same order we received their deposits.



Getting your new puppy


We no longer fly pups, clients can fly in and fly their pup in cabin or drive here to pick up.
Puppies that are picked up locally go to new homes at 7 weeks of age; the pups that fly in cabin can fly at 7 weeks according to airlines that permit.



Request additional information here.
"The bitterness of poor quality lingers long after the sweetness of low cost is forgotten."
DEPOSITS BEING ACCEPTED ON 2018 LITTERS.



See our puppy video!
Chocolate Litter Born February 3, 2018
Repeat Breeding
(All pups have been reserved.)




Hunter
(click for large picture)


Hunter is a good looking 75lb chocolate male and has one of the darkest coats we've ever seen! See another Hunter picture. He is also one of the calmest dogs we own. I think the one quality that sets him apart from other dogs is his desire to please. He listens intently and works hard to follow commands. Hunter is very easy going and loving around the house, but is all business when training/competing. His strengths are his marking ability and his calmness on the line. His sire, CFC-HRCH Gunner Flight Interceptor SH, is a Canadian Field Champion. Both Hunter's sire and dam are from some of the oldest and most successful dogs in the history. It is quite unique to find a chocolate Field Champion, it is even more difficult to find one with his kinds of genetics.
Hunter has OFA Excellent Hips, OFA Normal Elbows, Clear Eyes, DNA Tested Clear for EIC and CNM.
See Hunter's complete files.
Hunter should put out good looking pups with the temperament and brains to go anywhere from the sofa to the duck blind.





Polly
(click for large picture)

Polly is a 60 Pound Chocolate female. She is another of the well bred dogs that we own. Her breeding and genetics would rival several of our females in the number of titles (brains) in her ancestry along with the number of good/excellent hip certifications of those dogs.
With all this tremendous breeding behind her, she is still one of the friendliest dogs we own. Polly is very intelligent, easy to train and loves being around people. Her hips are OFA Good, Elbows OFA Normal, Eyes OFA Normal, she is DNA tested Clear for the EIC and CNM. SEE POLLY'S COMPLETE FILE HERE. Her pups should make great companions and also be able to compete at high levels in competition if you desire to go that way.


Chocolate litter of 5 females and 4 males was born on 2/3/18.
All pups have been reserved.

Click to see a video of Polly's pups at 5 1/2 weeks!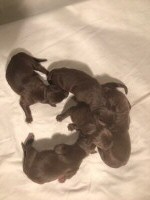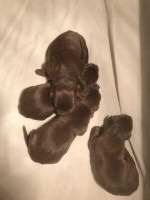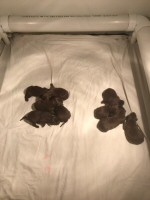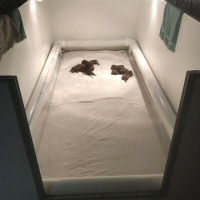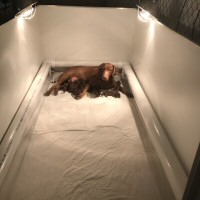 All-yellow Litter Planned For Mid 2018




Otto
(click for large picture)


Otto is an extremely handsome 70-pound yellow lab. Born 10/6/2013, the two attributes people always comment on about Otto are how muscular he is and how fast he runs. He is extremely driven to retrieve and is a Junior Hunter titleholder. Otto loves to be in the hunting blind either in the field or on the water. When he is not retrieving, he is everyone's best friend and will readily roll on his back for belly rubs. He comes from a great line of Paradise Kennels' yellow labs. His Sire, Int'l CH MERGANSER'S YELLOW JERSEY, JH, WC, SH, is a beautiful 82lb Yellow Male and is that "special" combination of good looks and brains/free of known genetic defects. His Dam, SHR DDC'S ICE ON THE TRESTLE, is a 65 Ib beautiful yellow female. She, like many of our dogs, has an excellent pedigree and is one of the sweetest dogs we own.
Otto has OFA Excellent Hips, OFA Normal Elbows, Clear Eyes, DNA Tested Clear for CNM, EIC, Degenerative Myelopathy, Hereditary Nasal Parakeratosis, Progressive Retinal Atrophy, Progressive Rod-Cone Degeneration, Retinal Dysplasia/Oculoskeletal Dysplasia 1, and Skeletal Dysplasia 2. See Otto's files in pdf.


See Otto picture 5
See Otto picture 6
See Otto picture 7






Poppy
(click for large picture)

Poppy is a beautiful 65lb yellow female. She is one of the best bred dogs we own. Her sire FC AFC Esprit's Power Play is one of the top producing studs in the country.
Her Dam: Landry's La Femme Jolie is out of AFC Hawkeyes Viking. She is fully trained. Poppy is rock steady on the line. She runs beautiful blinds and is strongest on the water. She has OFA certified excellent hips, normal elbows and her eyes are Cerfed. She has a nice coat and a great disposition.
She is very affectionate and has never met a stranger. She is great with other dogs and cats. She always wants to please. Her pups should make great, healthy companions and also compete in the field at a high level.
See Poppy's complete files.

We are accepting deposits for this all-yellow litter. We now have deposits on 5 males and 4 females (mostly repeat clients). Poppi's last litter produced 12 pups!

Here are some puppy pictures from an earlier Otto x Poppy litter: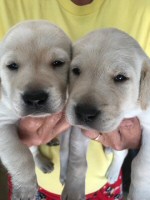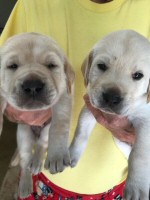 Please click on Deposits for mailing information.
---

See letters from our satisfied customers!

Ask your questions here or call us...

We are doing a survey and would like to know the viewers opinion of our page




Paradise Kennels
2445 Paradise Alley Road
Felton, DE 19943

1-302-284-3008 peachesandpups@aol.com



Please Note: Sometimes, our message responses to you will get blocked and you won't get our reply. Please include your telephone number in emails to us so that we can call you if our replys do get blocked.




Home | About Us | Letters | Breeding | Studs | Puppies | Trained Hunting Dogs | More Information | Map to our location