Home | About Us | Breeding | Studs | Puppies | Customer Feedback | Photo Gallery | More Information |

LAB BREEDER - PUPPIES



If you want a hunt or field test dog, or a dog that can be your be your special friend and companion, please check out our excellent candidates.

Our puppies are bred to be free any known genetic defects, good looking, and intelligent. To the best of our knowledge, our breeding stock is free of common hereditary defects such as hip dysplasia, inherited elbow problems, and progressive retinal atrophy. We insist on responsible breeding. That is why we feel sure you will be pleased with your puppy. Feedback from our satisfied customers help confirm this. You may always come to us for questions or assistance in caring for your pup. We are located at:
2209 Barclay Rd
Barclay, MD 21607
- an easy trip for many people wishing to see our litters.




Twin Oak Retrievers puppies are born and raised in our home and are well socialized. Their dew claws are removed and pups are wormed and vaccinated. Since most puppies are sold before they are old enough to leave, we recommend making a deposit (see deposit mailing information) to establish your turn in picking a puppy. Clients pick their puppies in the same order we received their deposits.



TWIN OAK RETRIEVERS GUARANTEE


We guarantee your puppy against inherited hip/elbow dysplasia and inherited ocular disease for twenty six months from the date of whelp. Full refund of purchase price upon written proof of above disease from your vet and a letter from the OFA. In case of inherited ocular disease we need written proof from an Animal Optometrist. Also, we will need proof that your dog has been spayed or neutered.






Getting your new puppy


We can fly pups, clients can fly in and fly their pup in cabin or drive here to pick up.
Puppies that are picked up locally go to new homes at 8 weeks of age; the pups that fly in cabin can fly at 8 weeks according to airlines that permit.



Request additional information here.
"The bitterness of poor quality lingers long after the sweetness of low cost is forgotten."
DEPOSITS ARE BEING ACCEPTED ON OUR LITTERS.



See our puppy video!
All Chocolate Litter Due February 4, 2022





Charlie
(click for large picture)


Charlie is our handsome three year old chocolate male. Weighing in around 80lbs. Though he loves to retrieve, he loves even more to be a companion. Charlie is amazing with our children and is always there to keep an eye on them. He has OFA GOOD HIPS/NORMAL ELBOWS, DNA Tested Clear for EIC and CNM. Charlie is the Son of Polly and Hunter. Polly (Dam) is one of the most kind hearted once in a lifetime girls. Always quiet, observant, ready to work and just waiting for a hand to offer some love. Hunter (Sire) comes from a good line of, CFC-HRCH Gunner Flight Interceptor SH and Canadian Field Champions. Hunter is very easy going and loving around the house, but is all business when training/competing. His strengths are his marking ability and his calmness on the line. Charlie definitely is a great combination of both his mother and father.
See Charlie's files.






Rose
(click for large picture)


Rose is our two year old chocolate female. Weighing around 43lbs. With a small frame she is the ideal size for cuddling on the sofa, car rides, even hunting in the blind. She is fast on her feet and loves to swim. Rose has almost a mirror image attitude to her Mother Jelene, Kind hearted and spoiled rotten. She definitely gets her love of retrieving and swimming from her father Ace. Just as all the rest of our crew she is wonderful with our children and doesn't mind my 2 year old son snuggling up with her in her bed. Rose is CNM and EIC clear.
See Rose's complete files.


A previous Charlie x Rose litter: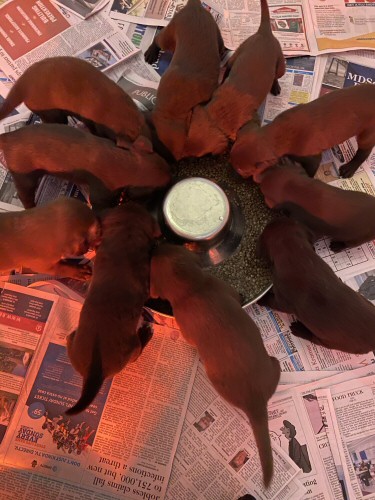 We are accepting deposits now.



---

See pictures from our satisfied customers!

See letters from our satisfied customers!

Ask your questions here or call us...
Twin Oak Retrievers
Danny and Rachel Truitt
2209 Barclay Rd
Barclay, MD 21607
TwinOakRetrievers1@aol.com
Cell: 1-443-480-1429 / Home: 1-410-758-7671



Home | About Us | Letters | Breeding | Studs | Puppies | Photo Gallery | More Information |