&nbsp We grow over 20 different kinds of peaches and nectarines. We planted the first 333 trees in 1989 and have been adding to the orchard ever since.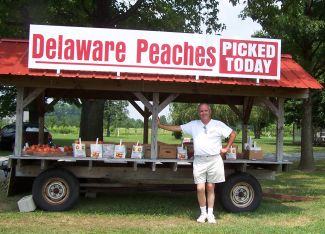 Paradise Orchards (see location on map) is run by my wife Nancy and myself(Levin VanSant). The children help, the only outside help we use is a crew of about 14 workers to "thin" the trees each spring. Basically that means going over all 2000 trees and pulling off peaches so there's only one peach every 7-8 inches over the whole tree. This ensures that the fruit left on the trees get more nutrients and ripen to a good size.

&nbsp Our orchard is about ten acres in size. It's small enough that the family can give personal attention to the trees. We hand pick every peach at the height of ripeness. Our peaches are irrigated all summer, so they're bigger, sweeter, and juicer than anything you can buy in a market.

&nbsp

The best indicator that a peach is ripe is the ground or background color. It should be yellowish or creamy in color. The blush or reddish color has to do with the variety of the peach and not its ripeness. A green ground color suggests that the peach was picked immature and it will not ripen. A ripe fruit will smell like a peach. Our peaches are all tree-ripened and hand-picked LARGE fruit. Normally, it takes about three to four medium peaches to weigh a pound; our LARGE, juicy peaches weigh almost a pound each!

Come visit our stand on Route 13 south of the Felton, DE traffic light between July 1 and September 10th each summer.

From: Lauren (last name omitted for privacy)
Date: July 14, 2013
To: peachesandpups@aol.com
Subject: peaches you gave us yesterday

Hello, Yesterday my sister and I stopped for peaches and you gave us a flat of white flesh peaches as a gift. We were the very excited two women from CT. You said the peaches would be the best ever and you were totally right! We washed some at our first stop in Jersey as we couldn't wait until we got home to eat them. With a napkin under our chin we thoroughly enjoyed them.
My parents moved to DE about 6 years ago because it was an economically feasible place to live compared to CT. Well I think the main reason was the delicious PEACHES. No comparing southern peaches to Eastern ones.
Enjoy your day and we thank you for your generous gift.

Lauren


From: Leslie (last name omitted for privacy)
To: peachesandpups@aol.com
Sent: 7/31/2011
Subj: Peaches

You have the most delicious peaches I've ever tasted and look forward to coming home from our vacation in OBX (I live in NJ), just so we can once again have the beast peaches ever !!!!!
Do you ship your peaches? I know they are delicate, but I thought I'd ask.
Thank you for these great peaches and look forward to your answer.
Sent from my iPad


Subject: Thanks
From: Maggie
Date:Wed, 17 Aug 2005
To: peachesandpups@aol.com

My husband and I stopped at your produce stand Monday evening and were so delighted with your peaches. You were also kind enough to give us an extra bag because you said we were the last customers of the day. Actually, we believe it was because you and your wife are extremely kind people!
When we returned to the Holiday Inn in Harrington, we gave a peach to the lady at the front desk, and she mentioned that she and her family always buy their peaches from you because they are the best around. When we sampled them for our supper, we found out she was right. Thanks so much for caring about the quality of your fruit.
Best regards,
Maggie and Gene (last name omitted for privacy)


From: Mary Lou
To: peachesandpups
Sent: 7/9/2008
Subj: FRUIT

Thank you so much - haven't had peaches this good since my dad had his orchard in Maryland back in the '40's + '50's.
Thank you and please take care of your trees so future generations may have the same pleasure from the fruit.

Mary Lou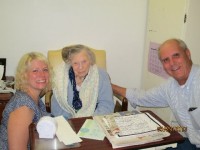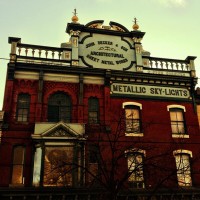 Miss Myrtle Clifton died peacefully on July 12, 2014 at Stonegate's Nursing Home in Greenville, DE age 111 & 8 months. She was a remarkable lady! She loved The Lord. (Left picture taken 9/29/2013). Born 11/19/02 in Greenwood, DE, she graduated from the Wharton School (evening class because she was a working woman) in 1940 in Accounting. She worked for the Decker Company in Philadelphia, retired and moved to Stonegates in 1984. She is healthy and had a great mind. This is a women that did her own taxes.

Here are a few pictures of Miss Myrtle Clifton on 11/19/13.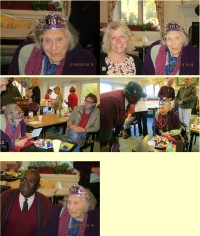 See a video of Miss Myrtle Clifton who still liked to tell dirty jokes at 109.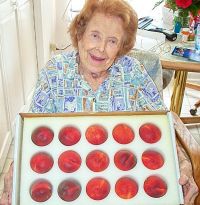 Our peach stand is open on Route 13 south of the Felton, DE traffic light between July 1 and September 10th each summer.



Paradise Orchards
2445 Paradise Alley Road
Felton, DE 19943

1-302-284-3008 peachesandpups@aol.com